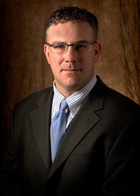 • Bret W. Shoufler - Partner
Mr. Shoufler has extensive litigation experience representing numerous clients in wide ranging areas of the law, including all aspects of family law, divorce, child custody, adoption, business and real property disputes, criminal defense and personal injury claims.
Mr. Shoufler graduated from the University of Idaho with a B.S. in Economics in 1990, and from the University of Idaho College of Law in 1995. Mr. Shoufler began his legal career with the Canyon County Prosecuting Attorney's Office until he joined the Law Offices of Scot Ludwig, later becoming the youngest partner in the firm.
Mr. Shoufler is a life-long Idaho resident. In addition to being involved in a variety of charitable organizations, Mr. Shoufler is on the Board of Directors of the Make-A-Wish Foundation of Idaho.